Secondhand 40W CO2 Laser Engraver 8x12 Desktop Laser Engraving Machine K40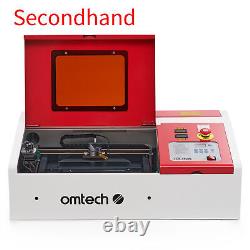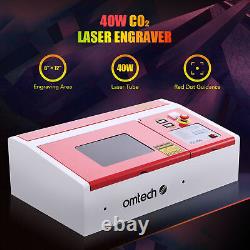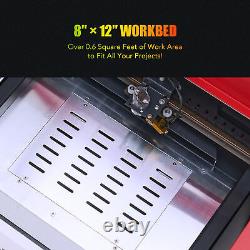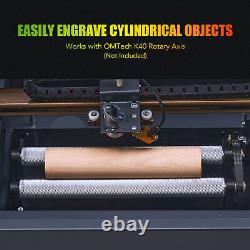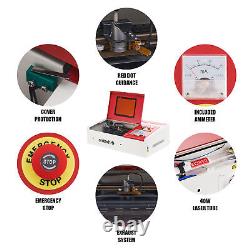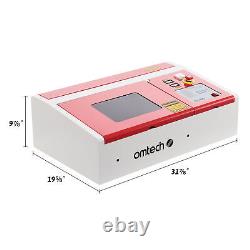 Bring your ideas to life with OMTech's versatile desktop laser engravers! Continues to uphold our high standards with its. Control panel; bundled Shenzhouyike, LaserDRW, and WinsealXP software; long-lasting laser tube; digital laser power supply; large. Working area; and the included ammeter to monitor the amount of current being used by the laser tube. Start marking, engraving, and etching your designs onto and into wood, paper and cardboard, plastics and acrylic, leather, fabric, and other non-metallic materials with this 40W desktop engraver.
Whether creating personal gifts, beautiful art, or a new home business, this CO2 laser system works with your control computer via the included engraving software to engrave and mark your design with pinpoint precision at depths up to 1/8 (3 mm). In addition to its quality, durability, and long service life, your new laser engraving machine is also highly practical and safe, automatically cutting power to the laser beam if the protective cover is opened. Accessible, versatile, and portable, you can do no better as you start your laser engraving journey than this powerful little desktop K40 from OMTech! Dimensions: 31.9 x 19.7 x 9.8 in.
Engraving Area: 8 x 12 in. Laser Service Life: 2000 hr. Engraving Speed: 13.8 ips (35 cm/s). Positioning Accuracy: ±0.01 in.
Data Transmission: USB Cable, Ethernet Cable, USB Flash Drive. 1 x 40W CO2 Laser Engraver.
1 x Maintenance Tool Set. 1 x USB Flash Drive (with Software). 1 x Tube of Silicone Insulation.
Start your laser engraving journey today with this 40W desktop unit and start bringing your ideas to life with extreme speed and precision. Wood, acrylic, fabric, leather, and other materials at speeds up to 13.8 inches per second. The spacious engraving bed provides over 0.6 sq. Of room to fit all your projects, whether personalized gifts for friends and family or custom orders for new clients; the vented panel can also be removed to give you more room when working on thicker materials.
At moderate power settings, this laser engraver's CO2 tube runs as long as 2000 hours; venting and cooling come included, the water pump keeping everything humming along from any. Bucket; the viewing window has tinted eye protection and an automatic cut off to stop the laser if the cover is accidentally opened during use; and the emergency stop is standing by should anything go sideways. Engraving machine fits wherever needed, be it study or workshop, garden shed or company office; Windows editions of Shenzhouyike, LaserDRW, and WinsealXP direct the 40W laser tube, 3 mirrors, 2 axes motors, 12mm focus lens.
To allow intricate labelling and design work in almost any common image format from. And detachable wheels keep everything simple to move and adjust.