Secondhand 30W Fiber Laser Engraver 70x70 110x110 175x175 Engraving Area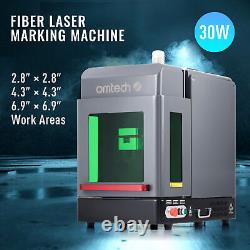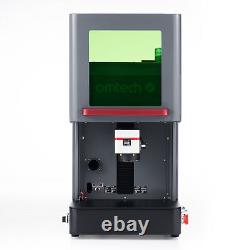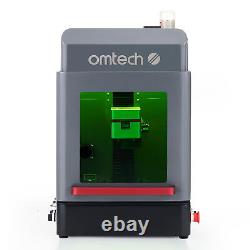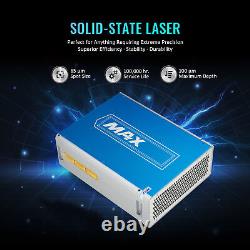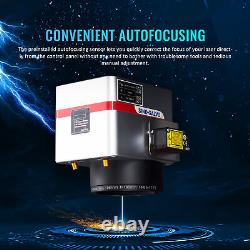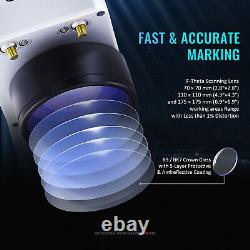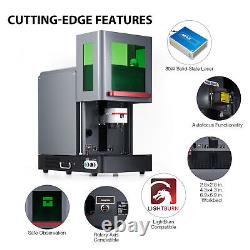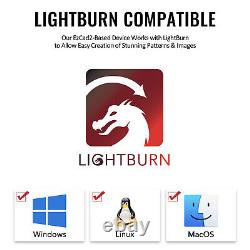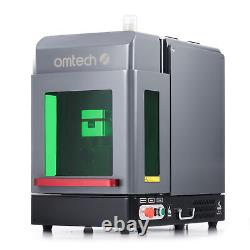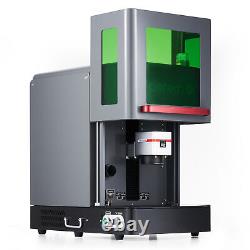 Secondhand 30W Fiber Laser Engraver 70x70 110x110 175x175 Engraving Area. Bring your ideas to life with OMTech's versatile fiber laser engravers! Sealed fiber laser engraver is your ultimate resource for engraving words, logos, pictures, barcodes, and more on metal including personalized gold and silver jewelry! And other materials with a quick turnaround and perfect accuracy.
Our device's state-of-the-art MAX fiber laser avoids the tetchiness, fragility, and water-based mess of CO2 laser tubes. Instead, it provides solid-state efficiency, quality, stability, and durability for its entire service life of 100,000 hours. The Galvo-Tech galvanometric system and 3 F? Field lenses of 70x70 mm (2.8x2.8 inch), 110x110 mm (4.3x4.3 inch), & 175x175 mm (6.9x6.9 inch) w. Orking areas ensure quick work with less than 1% distortion from your design.
The built-in workspace grid and laser locators make calibrating everything fast and easy. Adjust the scanner head up or down from the control panel and the provided sensor will let you automatically adjust the laser beam to compensate. Safely observe your engraver in action thanks to the transparent tinted acrylic window and helpful built-in light. The integrated interlock will automatically cut off the laser beam if the protective cover is opened. Rotary axes are not included but plug-and-play connection is provided for units with 4-pin connections to mark curved surfaces such as gold and silver rings and bracelets. Laser engraver is operated from the bundled edition of EzCad2, compatible with 32 and 64-bit editions of Windows XP, 7, 8, and 10. For all your projects cutting and marking metals, gems, silicon, and more, you can do no better. This 30W MAX fiber laser marking machine will allow you to bring your ideas to life with greater speed and precision than ever before, cutting precious and base metals with an accuracy of.
0.1 micrometer to create and recreate even your most intricate designs perfectly; ideal for applications with tight tolerances, the laser is source is also incredibly durable, with an average service life over 100,000 hours. This metal laser engraver's high-speed galvanometric system gives you extreme stability for quick scanning, engraving, and turnaround; make your mark at frequencies from 30-60 kHz on gemstones, silicon, steel, aluminum, brass, and more as the compact F-Theta field lenses use their air-spaced design and protective and anti-reflective coatings to provide clean throughput with less than 1% distortion. Our 30W fiber laser cutter comes with three lenses so that you can work across an expansive 175x175 mm (6.9x6.9 inch) field or tighten up for more careful work over 110x110 mm (4.3x4.3 inch) or 70x70 mm (2.8x2.8 inch) areas; the red dot pointers, motorized laser head, and preinstalled autofocus allow fast and exact calibration and focusing; grid dots facilitate positioning bars that securely hold your material as the laser works its magic at speeds up to 275.6 ips (7000 mm/s). This laser cutting and engraving tool comes bundled with EzCad2 software compatible with 32 and 64-bit editions of Windows XP, Vista, 7, 8, and 10 and a wide range of image formats (see below). The wide viewing window includes tinted eye protection & automatically cuts power when lifted.
And when you need to engrave rings, bracelets, or other curved surfaces, your rotary axis attachment not incl. Can be easily connected using the plug-and-play 4-pin connection port. Beam Quality (M2): 1.2-1.8. Engraving Area: 2.8x2.8, 4.3x4.3, & 6.9x6.9 in. (70x70, 110x110, & 175x175 mm).
Engraving Speed: 275.6 ips (7000 mm/s). Engraving Depth: 0.003 in. Positioning Accuracy: ±0.000004 in. Laser Service Life (MTTF): 100,000 hr. Operating Software: EzCad2 for Windows XP, Vista, 7, 8, or 10 (32/64 bit).
Machine Dimensions: 28 x 17 x 29.3 in. Net Weight: 145.5 lb. Package Dimensions: 32.7 x 22.8 x 26.8 in. Package Weight: 187.4 lb.
1 x Sealed Laser Engraver. 1 x USB Flash Drive. 1 x Hex Key Set. Master, AmericanExpress, Discover, Google Pay.
If you must modify your. This item comes with a. Special circumstances will be stated clearly in the listing.
If your item has been damaged in transit or. Please check everything carefully after you receive the parcel, as any. Damages except DOA (Dead-On-Arrival) are not covered if it's the fault of the consumer. As an emerging leader in manufacturing and exporting, we specialize in Business and Industrial Products, Sporting Goods, Pet Products, Home and Garden products for over 10 years.
It is our mission to provide innovative products and competitive prices to satisfy you.