OMTech Fiber Laser Source Replacement Part for 50W Fiber Laser Engravers Markers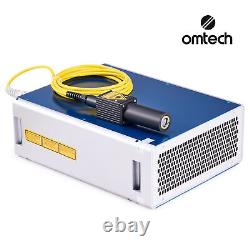 OMTech Fiber Laser Source Replacement Part for 50W Fiber Laser Engravers Markers. Using Q switched pulses generated from ytterbium doped optical fibers, this OMTech fiber optic laser source provides reliable 50W peak outputs with minimal wear and energy consumption. Connected to any stable 24V DC power source through its 3 wires' open eyelets, it provides more than 100,000 hours of rock steady service, producing clean ultrafast pulses through a 8'2 (2.5 m) fiber optic cable and 35mm collimator to make your mark on steel, aluminum, brass, gold, marble and gemstones, silicon, hard nontransparent plastics, and more. Controlled through a standard DB25 25 pin plug, this Yb laser source slots into any OMTech fiber system quickly and easily and works just as well for other systems with compatible hardware.
For all your projects engraving and marking metals, gems, silicon, and more, you can do no better! SOLID-STATE LASER: OMTech's 50W fiber laser source employs ytterbium doped Max laser and Q switched pulsing to bring your ideas to life with greater speed and precision than ever beforeMASTERFUL MARKING: With its clean and ultrafast pulses centered around a 1064nm wavelength, this Max fiber laser marks steel, aluminum, and more to help create even your most intricate designs perfectlyHEAVY-DUTY CONSTRUCTION: Fully sealed to prevent against dust, moisture, wear, and wear, this fiber laser is exceptionally durable with an average service life of over 100,000 hoursUSER-FRIENDLY DESIGN: Our fiber laser engraver source comes with a 8'2 cord for helpful range whether in the workshop, lab, or garage and an efficient cooling fan for quick heat dissipation EASY INSTALLATION: This 50W laser source easily slots into any OMTech fiber laser system and takes little space thanks to its compact design, perfect for your laser replacement or upgrade. Model: Max MFP-50W Q Switched Pulse Fiber Laser. Main Dimensions: 14 x 10.5 x 4.7 in.
Collimator Diameter: 1.4 in. Single Pulse Energy: 1-1.5 mJ. Beam Quality (M2): 1.5. Range: 50-107 F (10-42 C). Fiber Optic Cable Length: 8 ft.
Expected Service Life (MTTF): 100,000 hr. 1 x 50W Fiber Laser Source. Master, AmericanExpress, Discover, Google Pay.
Distance UNLESS the closer warehouse is out of stock for the specific products that customers have ordered. Your kind consideration is highly appreciated. If your item has been damaged in transit or.
Please check everything carefully after you receive the parcel, as any. Damages except DOA (Dead-On-Arrival) are not covered if it's the fault of the consumer. As an emerging leader in manufacturing and exporting, we specialize in Business and Industrial Products, Sporting Goods, Pet Products, Home and Garden products for over 10 years. It is our mission to provide innovative products and competitive prices to satisfy you.