OMTech XL300 330W Fume Extractor Air Purifier for Laser Cutter CNC Engraver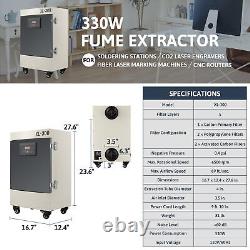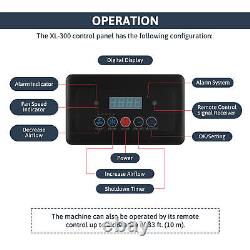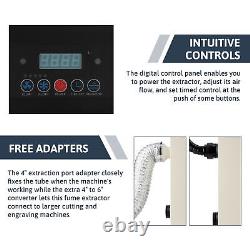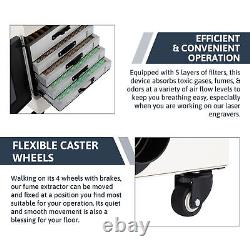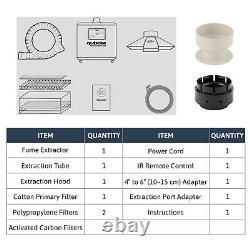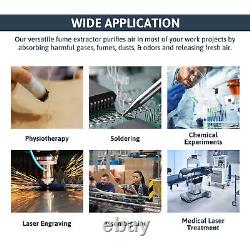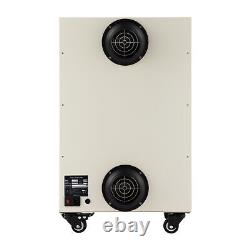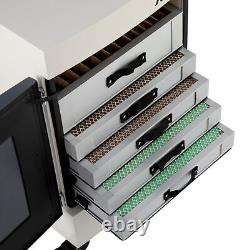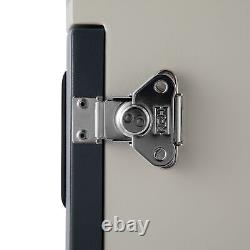 Keep your air quality up to snuff with OMTech's powerful fume extractor! Equipped with 5 layers of nylon, polypropylene, & activated carbon filters, this device absorbs toxic gases, fumes, & odors at a variety of air flow levels to keep you breathing easy. The 360° adjustable extraction tube & 4 to 6 inch (10-15 cm) port adapter make this purifier the perfect companion for OMTech's laser engravers. The metal casing & 4 quality casters provide superior durability and portability.
Anytime and anywhere you need fresh air in your life, OMTech's fume extractor is here for you. Model: XL-300 Dimensions: 16.7 x 12.4 x 27.6 in.
(42.5x31.5x70 cm) Material: SGCC Steel Color: White, Gray Input Voltage: 110V/60Hz Power Consumption: 330W Filter Layers: 5 Negative Pressure: 0.4 psi (2.5 kPa) Max. Rotational Speed: 6500 rpm Max. Airflow Speed: 69 cfm (117 m3/h) Air Inlet Diameter: 3.5 in. (90 mm) Adapter Diameter: 4 in.
(100 mm) Power Cord Length: 9 ft. (3 m) Weight: 81 lb. (36.7 kg) Noise Level.
INDUSTRIAL FUME EXTRACTOR: The 330W DC motor on OMTech's industrial-strength XL-300 fume extractor creates a powerful 69 ft. Airflow to pull in exhaust and purify air during any project; perfect for any size OMTech laser engraving machine, it also works well with welding tools, soldering stations, CNC machines, and more; the provided 4" to 6" adapter lets this fume extractor connect to larger OMTech cutting and engraving machines 5-STAGE FILTER: Our smoke extractor continuously pulls in your machine's fumes and debris, running them progressively through its cotton outer filter, two polypropylene layers, and two inner activated charcoal filters to absorb all your work's harmful gases and unpleasant odors HIGHLY MOBILE: The 4 quality caster wheels move this small but dependable smoke purifier easily between your devices when needed and then lock smartly in place once you're ready to go; the hermetically-sealed extraction tube easily folds and fixes at the perfect angle wherever you need it INTUITIVE CONTROL: The digital control panel lets you easily adjust this purifier's air flow and offers timed operation to match each job; the included remote also allows you to stay in complete control of its operation from up to 33 ft. 1 x Fume Extractor 1 x Extraction Tube 1 x Extraction Hood 1 x Nylon Primary Filter 2 x HEPA H13 Filters 2 x Activated Carbon Filters 1 x Power Cord 1 x Remote Control 1 x 4" to 6" (10-15 cm) Port Adapter 1 x Instructions. This extractor's 5 layers of nylon, polypropylene, & activated carbon filters work to remove harmful particles, toxic gases, & unpleasant odors from your projects to keep your work area full of clean air. The provided 4" to 6" adapter lets this fume extractor connect to larger OMTech cutting and engraving machines.
The digital control panel enables you to power the extractor, adjust its air flow, and set timed control at the push of some buttons. Split Air Inlet & Outlet. The toxic gases drawn to the air inlet are purified through 5 filters and released through the outlet, ensuring clean air flow during any project. 2 × 73.6 cfm (2×125 m³/h). We have three warehouses located in Anaheim, CA, Memphis, TN, and Dayton, NJ. Your kind consideration is highly appreciated. We will surely take care of u. Special circumstances will be listed clearly in the listing. Please do check everything carefully after you received the parcel, any damage except DOA (Dead-On-Arrival) would not be covered if it's your fault.
Our 30-day Satisfaction Guarantee assures our customers that they will receive all orders promptly and exactly as described. Parts must be resaleable and in the original packaging. We cannot take back used products. We cannot take back installed or tired products.
We do reserve the right to refuse and return any parts we find have been installed, are used or do not meet the above criteria. Return request need to be within 30 days of receipt. OMTech is a collaboration of 30-yr industry vets and promising new techs in Anaheim, California.
Our affordable but quality lasers and US-based support quickly grew us into the largest online brand for precision engraving. Alongside our skilled & helpful staff, OMTech users have built up a supportive online family in our forums and social media, sharing inspiration and sharpening their DIY skills together.
We love keeping the OMTech family on the cutting edge of laser crafting because we know our growth is inseparable from your success. All emails will be responded to within 12-24 hours. One 45-minute Virtual Tech Support appointment with OMTech Specialists in Anaheim, California.