OMTech Light B10 Laser Engraver for Metal & Wood 10W Diode Laser Cutting Machine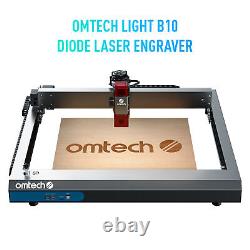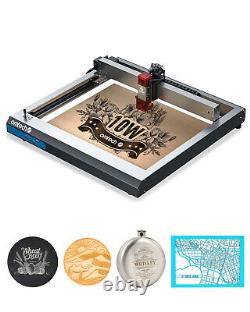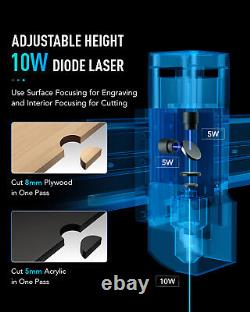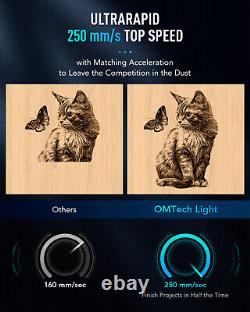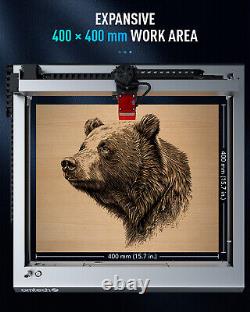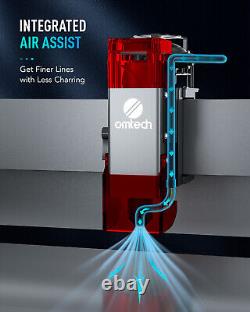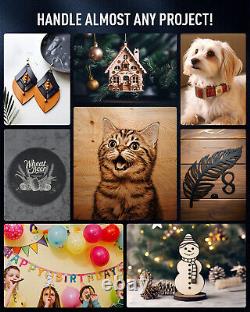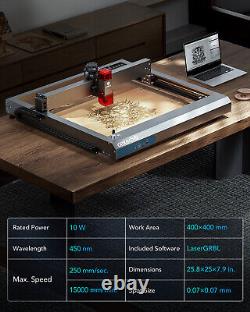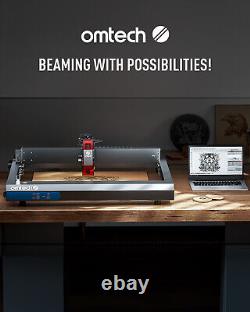 Anxious to join the world of laser engraving or need an upgrade to take your craft to the next level? Introducing the Light B10 from OMTech! Compact and affordable, this little laser cutter and engraver machine has the power to turn your dreams into reality. The 10W laser module on this diode laser engraver outclasses the competition by focusing its light into an ultrafine 0.07x0.07mm dot. Its 450nm wavelength engraves materials like wood, leather, paper, acrylic plastic, and glass with the ease of a CO2 laser cutter or CNC machine while etching barcodes and designs onto jewelry, stainless steel, and less reflective aluminum like a mini fiber marking machine.
Setup, focusing, and tension adjustment are quick and intuitive. The light aluminum frame allows marking and etching at a staggering 250mm/sec. But, slowed down and directed under the surface of your material, the Light is powerful enough to cut 5mm black acrylic or 8mm thick plywood in a single pass. Either way, upholding our usual high standards, the Light B10 provides a 15,000 hour average service life, more than 50% longer than leading competitors. Extra risers come included-and can be quickly enhanced-to allow even larger items to be passed through under the sides.
The integrated protective shield, air assist, and flame sensor keep things safe, and you can get started right away thanks to the included laser glasses, clear instructions, laser engraving blanks, and microSD card and reader loaded with software, both open source LaserGRBL and a trial version of LightBurn. With OMTech's precision engineering, helpful staff, and good name, the Light B10 desktop laser engraver is the ultimate solution for all your cutting, engraving, and marking needs. Engrave Metal, Cut Wood - The OMTech Light B10 is a 450nm blue laser engraver able to cut and etch wood, leather, dark acrylic, and other organic materials like a CO2 laser while marking jewelry, stainless steel, and other metals like a fiber laser; its 10W laser module gives you all the power you need by focusing to a tight 0.07x0.07mm dot. Get Right to Work - Lase your dreams into reality almost out of the box: Clear instructions guide quick setup of this precision metal and wood engraver; the necessary protective laser glasses and a set of 5 laser engraving blanks come included.
Get More Done - The expansive 400x400mm bed becomes even larger with the Light's extra risers and easy passthrough; if you need even more room, this laser wood carving machine can quickly make even higher risers for itself. Get Done Faster - This laser engraving machine's lightning 250 mm/sec. Marking speed lets you do more in less time and its dual level focus tool speeds resetting to cut through 8mm plywood or 5mm black acrylic in a single pass. Keep on Going - Thanks to OMTech's high standards, the Light offers a 15,000 hour expected service life (MTTF), unbeatable in the sector.
Stay Safe - Our high-volume laser air assist improves the quality of your work while reducing fire risk; a flame sensor is ready for any emergencies; access keys prevent unauthorized use of the laser cutter; and an integrated LED keeps your work area clearly lit. Choose Your Adventure - This laser cutting machine comes with open source LaserGRBL and is compatible with LightBurn which supports Windows XP 7 8 10 11, MacOS, and Linux; highly modular, the Light can easily accommodate laser accessories like a honeycomb bed, rotary axis, or laser enclosure.
Spot Size: 0.07x0.07 mm. Service Life: 15,000 hr. Work Area: 15.7 x 15.7 in. Dimensions: 25.8 x 25 x 7.9 in.
Net Weight: 18.1 lb. Data Transmission: USB Cable, MicroSD Card. Bundled Software: LaserGRBL, LightBurn Trial ed. Compatible Systems: Windows XP and Win 7 8 10 11, MacOS, Linux.