OMTech Fiber Laser Vise Metal Sheet Holder Clamp for Fiber Laser Cutter Engraver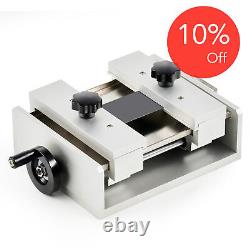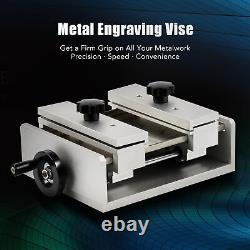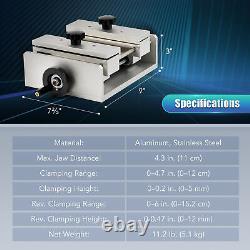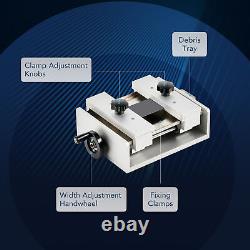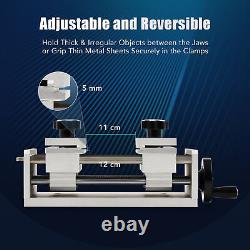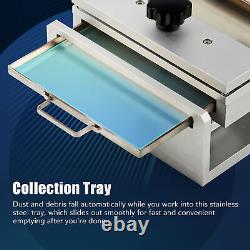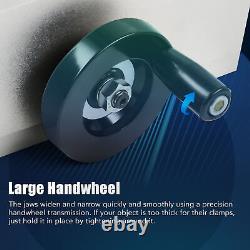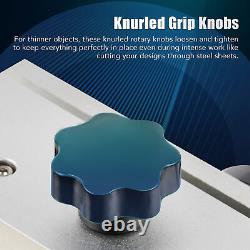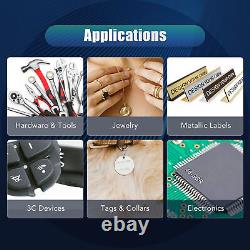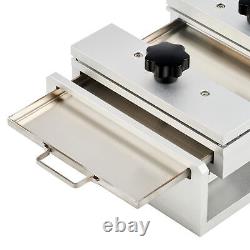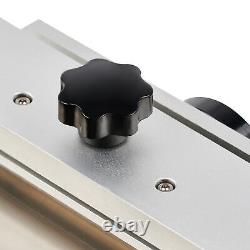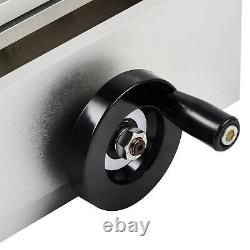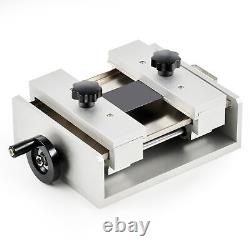 Need a firm grip to keep your engraving and cutting fast, precise, easy, and safe? This compact but sturdy workbench table by OMTech is the answer!
Constructed from premium aluminum, this adjustable workbed offers precision manual control thanks to its smooth acting handwheel transmission. The clamps on either side loosen and lock down with knurled knobs, firmly holding workpieces up to 12 cm (4.7") wide and 5 mm (0.2") thick.
Thicker blocks and irregular pieces can also be clamped loosely between the two jaws of the vise, which open as far as 11 cm (4.3) from one another. The stainless steel collection tray underneath slides in and out easily to catch any falling debris as you cut, keeping cleanup a breeze. Eleven pounds for wobble-free stability during operation, this dual clamp vise is also specially treated against corrosion, ensuring reliable service for years to come. Order this laser engraving vise from OMTech and start producing custom metalwork with greater ease and comfort than ever before! Dimensions: 9 x 7.4 x 3 in.
(23.1 x 18.9 x 7.5 cm). Jaw Distance: 4.3 in.
Clamping Range: 0-4.7 in. Clamping Height: 0-0.2 in.
Net Weight: 11.2 lb. STURDY VISE & WORKTABLE : This engraver vise from OMTech tightly fixes small and medium sized metal sheets for precision fiber laser marking, engraving, and cutting; whether you need to add logos and labels to steel, bar codes to aluminum, or vows and mottos to gold and silver, this workbed will hold everything rock steady just where you need it.
FAST & EASY ADJUSTMENT : The large handwheel can quickly but firmly close the two jaws around any thick block or irregular object up to 4.3 inches (11 cm) wide; the paired knurled knobs tighten the jaws' clamps to securely grip any sheet up to 12 cm (4.7") wide and 5 mm (0.2") thick. HANDY DEBRIS COLLECTION : The stainless steel tray beneath the vise's jaws quickly collects dust and debris from engraving as you go, sliding out for easy cleanup at end of day.
HEAVY-DUTY CONSTRUCTION : This helpful fiber laser accessory is made from rigid aluminum blocks specially treated for additional corrosion resistance; their 11 pound weight provides superior stability even without using the four M6 holes in the base to firmly mount this vise to your engraver's default bed. We have three warehouses located in Anaheim, CA, Memphis, TN, and Dayton, NJ.
Your kind consideration is highly appreciated. We will surely take care of u. Special circumstances will be listed clearly in the listing. Please do check everything carefully after you received the parcel, any damage except DOA (Dead-On-Arrival) would not be covered if it's your fault.
Our 30-day Satisfaction Guarantee assures our customers that they will receive all orders promptly and exactly as described. Parts must be resaleable and in the original packaging. We cannot take back used products. We cannot take back installed or tired products.
We do reserve the right to refuse and return any parts we find have been installed, are used or do not meet the above criteria. Return request need to be within 30 days of receipt. OMTech is a collaboration of 30-yr industry vets and promising new techs in Anaheim, California. Our affordable but quality lasers and US-based support quickly grew us into the largest online brand for precision engraving. Alongside our skilled & helpful staff, OMTech users have built up a supportive online family in our forums and social media, sharing inspiration and sharpening their DIY skills together. We love keeping the OMTech family on the cutting edge of laser crafting because we know our growth is inseparable from your success. All emails will be responded to within 12-24 hours. One 45-minute Virtual Tech Support appointment with OMTech Specialists in Anaheim, California.