OMTech CO2 Laser Engraver Cutter 35x50 Inch Bed 130W EFR Tube 4 Way Pass Through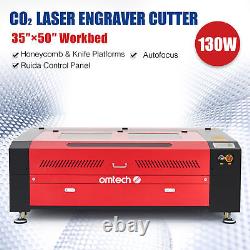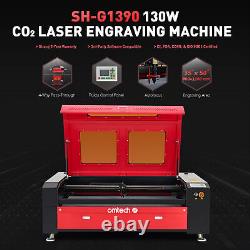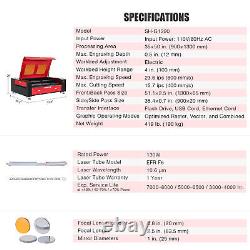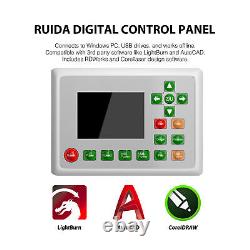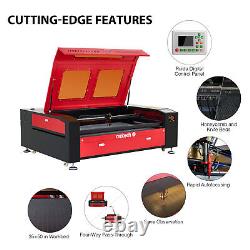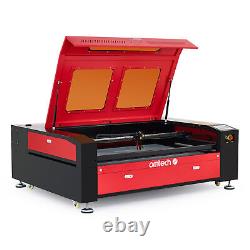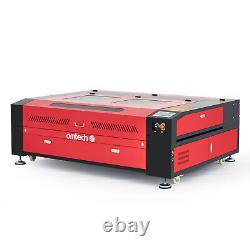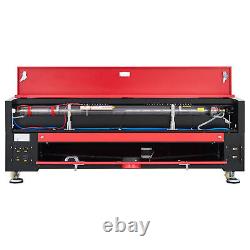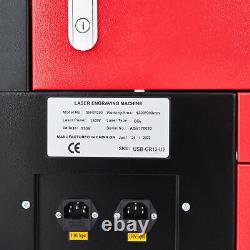 Bring your ideas to life with OMTech's high-powered laser engravers! This laser cutting and engraving machine provides dual work platforms: a honeycomb bed for smaller objects and a firmer aluminum knife blade bed for larger, harder substrates like acrylic blocks. Its autofocusing system works with the bed's electronic lifting platform to get you marking, engraving, and cutting your designs onto and into wood, paper and cardboard, plastics and acrylic, leather, fabric, and other nonmetallic materials more quickly and efficiently than ever before.
Compatible with most third-party graphic software, this laser etching machine lets you upload your designs using the included software or via the Ethernet or USB ports. Adjust the workbed up or down from the control panel and the provided sensors will let you automatically adjust the laser beam to compensate. Safe as can be, this laser engraver and cutter can lock its control panel via password and the included keys; automatically cuts off the laser beam if the protective cover is opened; and provides an installed air assist to blow debris clear of the laser as it is created.
With OMTech's precision engineering, quality materials & assembly, and good name, you can do no better for all your marking, engraving, and cutting projects at home or in your workshop. INDUSTRIAL CO2 LASER: This 130W laser engraver and cutter from OMTech will allow you to bring your ideas to life with greater speed and precision than ever before, cutting up to 1/2 through plywood or acrylic; the advanced features of its intuitive Ruida control panel and bundled Windows-compatible editions of RDWorks v8 and CorelLaser will let you create and recreate even your most intricate designs perfectly. MOTORIZED 35x50 BED: The spacious 35x50 inch workbed provides over 12 square feet of room to fit almost any project; four-way 51.1x2.5 front & back and 35.4x0.7 on either side pass-through doors open up even greater possibilities; and everything adjusts automatically up and down at the touch of a button, with a preinstalled autofocus letting you get right to work. FAST & FULLY ADJUSTABLE: This CO2 laser system marks wood, paper, plastics, leather, fabric, stone, and a wide range of other nonmetallic materials at up to 23.6 inches per second (600 mm/s) with pinpoint accuracy; its Ruida panel works with most third-party graphic software, easily receiving files via Ethernet or USB. SAFE & EASY OPERATION: A digital laser power supply provides sure & easily monitored operation for your tube's expected 8,000-hour life; password & key protection prevents unauthorized use; the wide viewing cover includes tinted eye protection & automatically cuts power when opened; and a built-in air assist quickly blows away smoke, dust, and sparks.
Machine Dimensions: 72.8 x 49.2 x 26 in. Service Life: 8,000 hr.
Engraving Area: 35 x 50 in. Front & Rear Pass-Through Size: 51.1 x 2.5 in. Side Pass-Through Size: 35.4 x 0.7 in. Engraving Speed: 23.6 ips 600 mm/sec. Cutting Speed: 15.7 ips 400 mm/sec. Cutting Depth: 0.5 in. Positioning Accuracy: ±0.0004 in. Compatible Operating Systems: Windows 2000, XP, Vista, 7, 8, 10. Bundled Software: RDWorks v8.0, CorelLaser. Data Transmission: USB Cable, Ethernet Cable, USB Flash Drive. 1 x 130W Laser Engraver. 1 x USB Flash Drive with Software. 1 x Tube of Silicone Insulation. 130W CO2 laser tube with an estimated lifetime of up to 8,000 operation hours depending on power setting usage and water cooling performance.
PLEASE NOTE: Frequent use of high laser power settings will shorten the laser tube lifetime as follows. Low Power 10-40% = 7,000-8,000 Hours. Moderate Power 40-70% = 5,000-6,500 Hours. High Power 70-100% = 3,000-4,000 Hours. Laser Cutting: Acrylic Wood Leather Plastics Fabrics MDF Cardboard Paper Corian Foam Fiberglass Rubber.
Marking/Engraving: Acrylic Wood Leather Plastics Fabrics Glass Rubber Cork Brick Granite Marble Tile River Rock Bone Melamine Phenolic Aluminum Stainless Steel Titanium. Cannot cut hardwoods like mahogany. CO2 lasers only mark bare metals when anodized or treated. Some PVC-based acrylics can create toxic fumes when lasered. This item is in the category "Business & Industrial\Printing & Graphic Arts\Screen & Specialty Printing\Engraving".
The seller is "globalfreeshipping" and is located in this country: US. This item can be shipped to United States.
Brand: OMTech
MPN: AF3550-130
Engraving Method: Laser
Type: Engraving Machine
Machine Operation: Computerized
Model: SH-G1390
Input Power: 110V/60Hz AC
Workbed Adjustment: Electric
Rated Laser Power: 130W
Est. Service Life: 8,000 hr.
Front & Rear Pass-Through Size: 51.1 x 2.5 in. (1300x65 mm)
Side Pass-Through Size: 35.4 x 0.7 in.

Engraving Speed: 23.6 ips (600 mm/sec. Cutting Speed: 15.7 ips (400 mm/sec.

)
Positioning Accuracy: ±0.0004 in. (±0.01 mm)
Max. Cutting Depth: 0.5 in. (12 mm)
Cooling Method: Water
Compatible Operating Systems: Windows 2000, XP, Vista, 7, 8, 10
Bundled Software: RDWorks v8.0, CorelLaser
Data Transmission: USB Cable, Ethernet Cable, USB Flash Drive
Certifications: CE, FDA, CDRH
Net Weight: 419 lb.

(190 kg)

Machine Dimensions: 72.8 x 49.2 x 26 in. (185x125x66 cm)
Warranty: 2 Years (1 Year for Tube & Power Supply)