OMTech AF2028-60 60W CO2 Laser Engraver Cutter Cutting Engraving Machine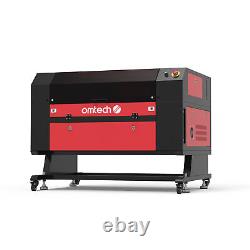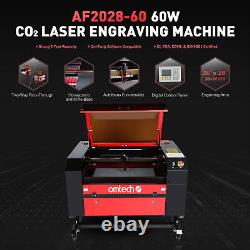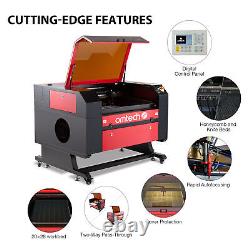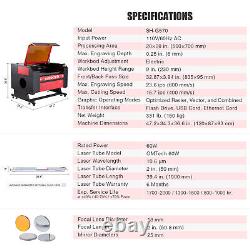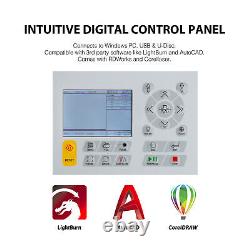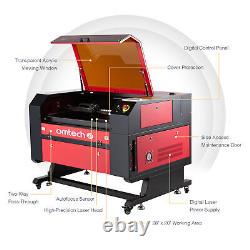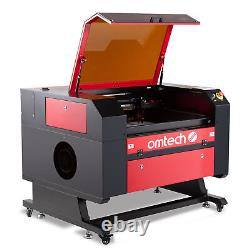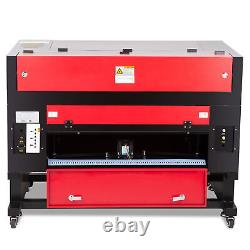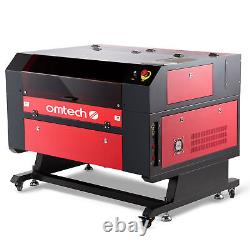 OMTech is a collaboration of 30-yr industry vets and promising new techs in Anaheim, California. Our affordable but quality lasers and support quickly grew us into the largest online brand for precision engraving. OMTech 80W CO2 Laser Engraver This laser cutting and engraving machine provides dual work platforms: a honeycomb bed for smaller objects and a firmer aluminum knife blade bed for larger, harder substrates like acrylic blocks. Its autofocusing system works with the bed's electronic lifting platform to get you marking, engraving, and cutting your designs onto and into wood, paper and cardboard, plastics and acrylic, leather, fabric, and other nonmetallic materials more quickly and efficiently than ever before.
Compatible with most third-party graphic software, the intuitive controls custom designed for our machines by custom designed for our machines. Choose your material, adjust your parameters, and the laser will engrave and cut your design with pinpoint precision.
Adjust the workbed up or down from the control panel and the provided sensors will let you automatically adjust the laser beam to compensate. Safe as can be, this laser engraver and cutter can lock its control panel via password and the included keys; automatically cuts off the laser beam if the protective cover is opened; provides an installed air assist to blow debris clear of the laser as it is created; and offers a large-capacity bin to collect waste below the work bed for safe use and easy cleanup. When your work is done, just unlock the casters and wheel it anywhere you want for easy storage and quick transport. Laser Tube Lifetime: 80W CO2 laser tube with an estimated lifetime of up to 8,000 operation hours depending on power setting usage and water cooling performance PLEASE NOTE: Frequent use of high laser power settings will shorten the laser tube lifetime as follows: Low Power 10-40% = 7,000-8,000 Hours Moderate Power 40-70% = 5,000-6,500 Hours High Power 70-100% = 3,000-4,000 Hours.
Compatible Materials: Laser Cutting: Acrylic Wood Leather Plastics Fabrics MDF Cardboard Paper Corian Foam Fiberglass Rubber Marking/Engraving: Acrylic Wood Leather Plastics Fabrics Glass Rubber Cork Brick Granite Marble Tile River Rock Bone Melamine Phenolic Aluminum Stainless Steel Titanium Cannot cut hardwoods like mahogany CO2 lasers only mark bare metals when anodized or treated. Some PVC-based acrylics can create toxic fumes when lasered.
Certifications: FDA Compliant CE Certification ISO9001 Quality Certification. Digital Controller The intuitive control panel with a digital display allows complete control of the laser head, pausing and stopping projects, adjusting laser power and speed settings, file viewing, and project framing via Windows-compatible RDWorks v8. The preinstalled autofocusing tool lets you quickly correct the focus of your laser directly from the control panel without any need to bother with troublesome acrylic tools and tedious manual adjustment. High-Performance DC Tube Our 1250 mm CO2 laser tube provides 80W of power for up to 8000 hours or lasts twice as long when consistently used at lower settings.
SAFETY ENSURANCE Air Assist Emergency Stop Cover Protection Automatic Shutdown. Four-Way Pass-Through The four-way pass-32¾?
Front & back and 19?? On either side-allows you to feed material into the workbed from any direction, letting you cut materials larger than the bed size by sliding them across the engraving table. Spacious Work Area The 20? (500×700 mm) workbed gives you plenty of space to work on wood, rubber, plastic, paper, fabric, leather, ceramics, tile, fiberglass, marble, stone, and more-even before you open the integrated pass-through doors that permit you to work on even larger pieces! 59 x 33.8 x 27.6 in. 23.6 ips (600 mm/s).
15.7 ips (400 mm/s). Flash Drive, USB Cord, Ethernet Cord. Optimized Raster, Vector, and Combined. YOU CAN ENGRAVE THESE MATERIALS.
4-Wheel Rotary Axis This rotary axis can easily work with your laser engraver to let you perform 360° engravings on cylindrical and round objects up to 6? In diameter, such as cups, bottles, tubes, pipes, bowls, and more! CW-5000 Water Chiller This powerful laser engraver comes with an industrial-strength water chiller to keep the laser tube nice and cool no matter your project.
LightBurn Software LightBurn communicates directly with your OMTech CO2 Laser Engraver and most other DSP controlled laser engraving machines. Take advantage of a complete set of composition tools to artistically draw, arrange and edit shapes to create beautiful vector graphic designs for breathtaking engravings. 120W fume extractor It has a max airflow of 194 cfm to efficiently capture over 99.9% of the tiniest particles in the air in its 4 high-density filter layers, ideal for laser engraving, welding, soldering, and more!
Reviewed in the United States???? It does exactly what it is made for. Great machine for the value. Machine was easy to setup and super easy when used with LightBurn.
Ive done a few projects and no regrets Im thinking of another machine and will probably get another like this. Follow my TikTok to see the projects I did with it johnnymomoney. Engraves everything I've tried! Engraved aluminum, blades, keys, rock, if you let the laser run multiple time it cuts deeper on all of these.
Awkward to move due to cord that connects both units but doable. Comes well packed in wooden box.
WHAT OUR CUSTOMERS HAD TO SAY.. The machine arrived in excellent condition. Thanks for the great service! Great laser and addition to our shop. Definitely a learning curve but with some patients and watching videos you will get the hang of it in a very short period of time.
Cant wait to grow big enough to get another one. I've experienced a few problems; however, the OMTech team has been great at getting my issues resolved.
Be patient and put your frustration aside; they'll have you back in business! They make a good product and they stand behind it.
I have been using the OMTech 20w fiber for a few months now and I have to say that is has been a great experience.