OMTech 40W 12x 8 CO2 Laser Engraver Marker Machine Crafts Marker USB Interface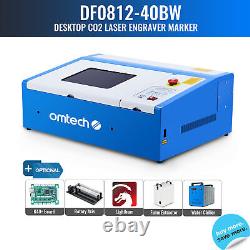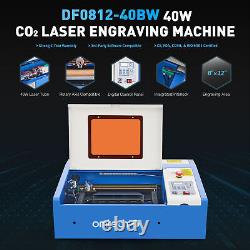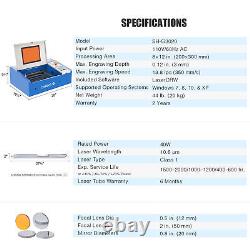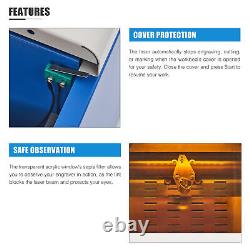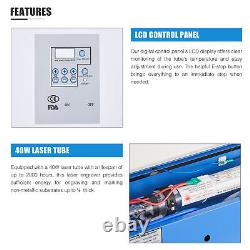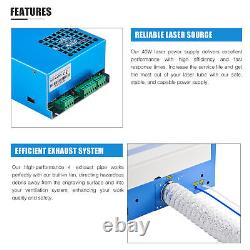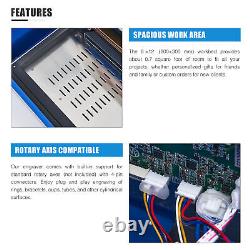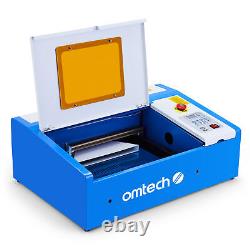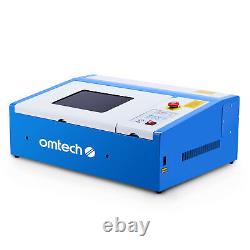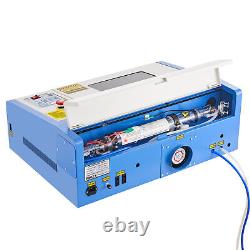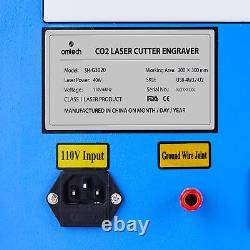 Bring your ideas to life with OMTech's versatile desktop laser engravers! This 40W CO2 laser engraver continues to uphold our high standards with its digital control panel; bundled Shenzhouyike, LaserDRW, and WinsealXP software; long-lasting laser tube; digital laser power supply; large 8x12 inch working area; and the included ammeter to monitor the amount of current being used by the laser tube. Start marking, engraving, and etching your designs onto and into the wood, paper and cardboard, plastics and acrylic, leather, fabric, and other non-metallic materials with this 40W desktop engraver.
Whether creating personal gifts, beautiful art, or a new home business, this CO2 laser system works with your control computer via the included engraving software to engrave and mark your design with pinpoint precision at depths up to 1/8 (3 mm). In addition to its quality, durability, and long service life, your new laser engraving machine is also highly practical and safe, automatically cutting power to the laser beam if the protective cover is opened. Accessible, versatile, and portable, you can do no better as you start your laser engraving journey than this powerful little desktop K40 from OMTech!
40W CO2 laser tube with an estimated lifetime of up to 2,000 operation hours depending on power setting usage and water cooling performance. PLEASE NOTE: Frequent use of high laser power settings will shorten the laser tube lifetime as follows. Low Power 10-40% = 1,500-2,000 Hours. Moderate Power 40-70% = 1,000-1,200 Hours. High Power 70-100% = 400-600 Hour.
Acrylic Wood Leather Plastics Fabrics Glass Rubber Cork Brick Granite Marble Tile River Rock Bone Melamine Phenolic Aluminum Stainless Steel Titanium. CO2 lasers only mark bare metals when anodized or treated.
Some PVC-based acrylics can create toxic fumes when lasered. LCD Control Panel Our digital control panel's LCD display offers clear monitoring of the tube's temperature and easy adjustment during use. The helpful E-stop button brings everything to an immediate stop when needed.
Rotary Axis Compatible Our engraver comes with built-in support for standard rotary axes (not included) with 4-pin connectors. Enjoy plug and play engraving of rings, bracelets, cups, tubes, and other cylindrical surfaces. 40W Laser Tube Equipped with a 40W laser tube with a lifespan of up to 2000 hours, this laser engraver provides sufficient energy for engraving and marking non-metallic substrates up to?? Removable Workbed Remove the vented level board to add 2" of Z-depth and accommodate taller materials; however, this reduces the workbed's X and Y dimensions to 8" x 5.
Spacious Work Area The 8? (200×300 mm) workbed provides about 0.7 square foot of room to fit all your projects, whether personalized gifts for friends and family or custom orders for new clients. SAFETY ENSURANCE Built-in Ventilation Emergency Stop Cover Protection Automatic Shutdown.
13.8 ips (350 mm/s). Windows 7, 8, 10, & XP. Optimized Raster, Vector, and Combined. YOU CAN ENGRAVE THESE MATERIALS. Barrel-Rolling Rotary Axis A rotation axis comes included to get you right to work easily marking and engraving irregular, round, and cylindrical objects 1? K40+ MotherboardK40+ MotherboardThis customized smoothieboard will allow your K40 box to work with LightBurn running on any current and common operating system-Windows, Linux, or MacOS. This spacious 2.4-gallon (9L) water tank runs at 2.6 gpm to remove heat for every 1°C rise in water temperature from your 60W below CO2 laser tube as it works. LightBurn Software LightBurn communicates directly with your OMTech CO2 Laser Engraver and most other DSP controlled laser engraving machines. Take advantage of a complete set of composition tools to artistically draw, arrange and edit shapes to create beautiful vector graphic designs for breathtaking engravings.
120W fume extractor It has a max airflow of 194 cfm to efficiently capture over 99.9% of the tiniest particles in the air in its 4 high-density filter layers, ideal for laser engraving, welding, soldering, and more! Reviewed in the United States???? Great machine for the value. It does exactly what it is made for.
Machine was easy to setup and super easy when used with LightBurn. Ive done a few projects and no regrets Im thinking of another machine and will probably get another like this. Follow my TikTok to see the projects I did with it johnnymomoney. Engraves everything I've tried! Engraved aluminum, blades, keys, rock, if you let the laser run multiple time it cuts deeper on all of these.
Awkward to move due to cord that connects both units but doable. Comes well packed in wooden box. WHAT OUR CUSTOMERS HAD TO SAY.. The machine arrived in excellent condition.
Thanks for the great service! Great laser and addition to our shop.
Definitely a learning curve but with some patients and watching videos you will get the hang of it in a very short period of time. Cant wait to grow big enough to get another one. I've experienced a few problems; however, the OMTech team has been great at getting my issues resolved. Be patient and put your frustration aside; they'll have you back in business! They make a good product and they stand behind it.
I have been using the OMTech 20w fiber for a few months now and I have to say that is has been a great experience. This item is in the category "Business & Industrial\Printing & Graphic Arts\Screen & Specialty Printing\Engraving". The seller is "orionmotortech" and is located in this country: US. This item can be shipped to United States.
Brand: OMTech
MPN: DF0812-40BW
Engraving Method: Laser
Type: Engraving Machine
Material: Acrylic, Felt, Foam, Glass,Neoprene, Paper, Plastic, Rubber,Wood
Engraving Application: Gift Personalization, Housegoods, Office Signage, Plaque, Signs
Power: 40W
Machine Operation: Computerized
Name Tag Style: Badge
Model: SH-G3020
Power Supply: AC110±10% 60HZ
Engraving Area: 8″ × 12″ (20×30 cm)
Included Software: laserDRW
Max. Engraving Depth: 0.12 in. Engraving Speed: 13.8 ips (350 mm/s)
Transfer Interface: USB2.0
Supported Operating Systems: Windows 7, 8, 10, & XP
Min Character Size: Character2x2mm,Letter1x1mm
Net Weight: 44 lb.

(20 kg)

Warranty: 2 Years
Rated Power: 40W
Laser Wavelength: 10.60 μm
Class: Class 1 Laser Product
Laser Tube Warranty Time: 6 Month
Focal Lens Dia. (12 mm)
Focal Length: 2 in. (50 mm)
Mirror Diameters: 0.8 in. (20 mm)
UPC: 797434210999