OMTech 28x20 60W CO2 Laser Engraving Machine w. Autofocus CW5000 Water Chiller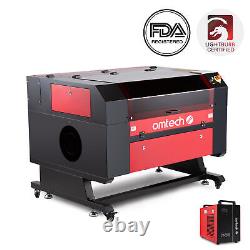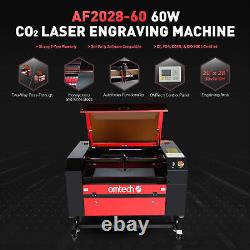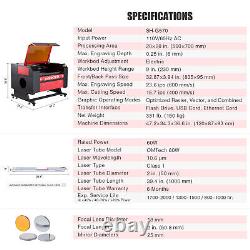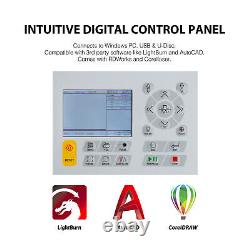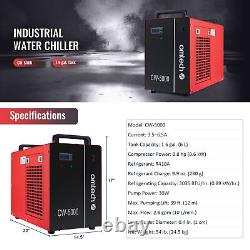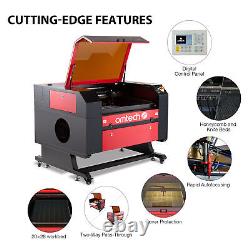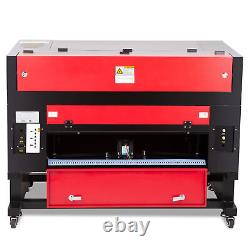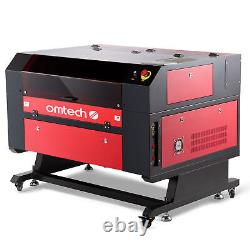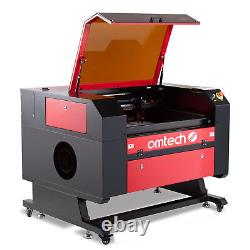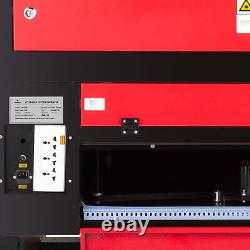 This laser cutting and engraving machine provides dual work platforms: a honeycomb bed for smaller objects and a firmer aluminum knife blade bed for larger, harder substrates like acrylic blocks. Its autofocusing system works with the bed's electronic lifting platform to get you marking, engraving, and cutting your designs onto and into wood, paper and cardboard, plastics and acrylic, leather, fabric, and other nonmetallic materials more quickly and efficiently than ever before. Compatible with most third-party graphic software, the intuitive controls custom designed for our machines by custom designed for our machines.
Choose your material, adjust your parameters, and the laser will engrave and cut your design with pinpoint precision. Adjust the workbed up or down from the control panel and the provided sensors will let you automatically adjust the laser beam to compensate. Safe as can be, this laser engraver and cutter can lock its control panel via password and the included keys; automatically cuts off the laser beam if the protective cover is opened; provides an installed air assist to blow debris clear of the laser as it is created; and offers a large-capacity bin to collect waste below the work bed for safe use and easy cleanup. When your work is done, just unlock the casters and wheel it anywhere you want for easy storage and quick transport.
Check out our many Accessories and Parts to go along with your laser machine! 60W CO2 laser tube with an estimated lifetime of up to 2,000 operation hours depending on power setting usage and water cooling performance.
PLEASE NOTE: Frequent use of high laser power settings will shorten the laser tube lifetime as follows. Low Power 10-40% = 1,700-2,000 Hours. Moderate Power 40-70% = 1,300-1,500 Hours.
High Power 70-100% = 800-1,000 Hours. Laser Cutting: Acrylic Wood Leather Plastics Fabrics MDF Cardboard Paper Corian Foam Fiberglass Rubber. Marking/Engraving: Acrylic Wood Leather Plastics Fabrics Glass Rubber Cork Brick Granite Marble Tile River Rock Bone Melamine Phenolic Aluminum Stainless Steel Titanium. Cannot cut hardwoods like mahogany. CO2 lasers only mark bare metals when anodized or treated.
Some PVC-based acrylics can create toxic fumes when lasered. The RUIDA Motherboard and intuitive RD Control System is easy to use and offers advanced capabilities.
Compatible with third party software like LightBurn and AutoCAD. (1497×48 mm) front & back and 38?? (970×20 mm) on either side-allows you to work pieces much larger than the bed size by sliding them through as you go. The laser head is equipped with an automatic focus adjustment that you can use directly from the control panel, eliminating tedious manual adjustment. This powerful laser engraver comes with an industrial-strength water chiller to keep the laser tube nice and cool no matter your project.
The crystal-clear LCD displays on the surface of the machine monitor the electric current, easily adjusted by nearby knobs, visualizing the working current and power. The transparent acrylic window's sepia filter allows you to observe your engraver in action, as the tint blocks the laser beam and protects your eyes.
The laser automatically stops engraving, cutting, or marking when the workbed's cover is opened for your safety. Close the cover and press Start to resume your work.
Indicator Lights & Emergency Stop. Three indicator lights keep you easily aware of your machine's operation while the emergency stop immediately cuts the laser and stops all moving parts in the event of accident. Engraving Depth: 0.25 in.
Workbed Height Range: 9 in. Front/Back Pass Size: 32.87×3.94 in. Engraving Speed: 23.6 ips (600 mm/s). Cutting Speed: 15.7 ips (400 mm/s).
Included Software: RDWorks 8, CorelLaser. Graphic Operating Modes: Optimized Raster, Vector, and Combined. Transfer Interface: Flash Drive, USB Cord, Ethernet Cord.
Machine Dimensions: 47.2×34.3×36.6 in. Laser Tube Model: OMTech 60W.
Laser Tube Diameter: 2 in. Laser Tube Length: 39.4 in. 1 x Laser Engraver Machine. 1 x Ethernet to Ethernet Cable. 1 x Venting Exhaust Duct 4 ft.
1 x USB Type-A to Type-A Cable. 1 x USB Drive with Software. 1 x Stainless Steel Clamp. Tank Capacity: 1.6 gal. Compressor Power: 0.8 hp (0.6 kW).
Set Temperature Stability: ±0.9°F (±0.5°C). Flow: 2.6 gpm 10 L/min. Inlet/Outlet Diameter: 0.4 in.
Overall Dimensions: 22 x 11.4 x 17 in. 1 x Industrial Water Chiller. 1 x Alarm Signal Output Plug. If the weight of your order exceeds 150 lbs. Special circumstances will be stated clearly in the listing.
Please check everything carefully after you receive the parcel, as any damages except DOA (Dead-On-Arrival) are not covered if it's the fault of the consumer. Our 30-day Satisfaction Guarantee assures our customers that they will receive all orders promptly and exactly as described. Parts must be resaleable and in the original packaging. We cannot take back used products. We cannot take back installed or tired products.
We do reserve the right to refuse and return any parts we find have been installed, are used or do not meet the above criteria. Return request need to be within 30 days of receipt. OMTech is a collaboration of 30-yr industry vets and promising new techs in Anaheim, California. Our affordable but quality lasers and US-based support quickly grew us into the largest online brand for precision engraving.
Alongside our skilled & helpful staff, OMTech users have built up a supportive online family in our forums and social media, sharing inspiration and sharpening their DIY skills together. We love keeping the OMTech family on the cutting edge of laser crafting because we know our growth is inseparable from your success. All emails will be responded to within 12-24 hours. One 45-minute Virtual Tech Support appointment with OMTech Specialists in Anaheim, California.