XL300 Prefilter Replacement Primary Filter PM50 Filter for Fume Absorbers More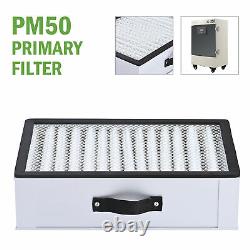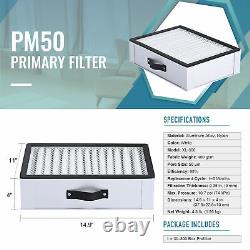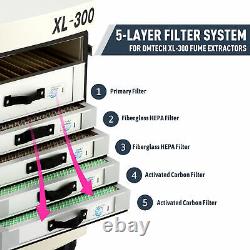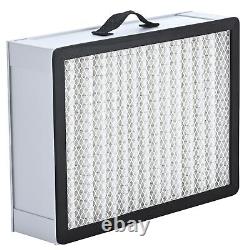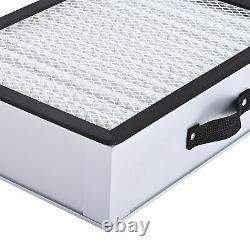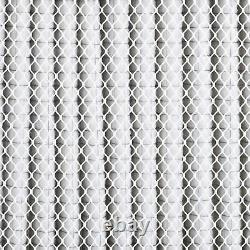 OMTech 100W 24x40 in CO2 Laser Engraver Cutter Cutting Machine Ruida. Bring your ideas to life with OMTech's laser engraver MF series!
This laser cutting and engraving machine includes dual work platforms: a honeycomb bed for smaller objects and a firmer aluminum knife blade bed for larger, harder substrates like acrylic blocks. Custom designed for our machines. Compatible with most third-party graphic software, this laser cutter allows you to turn your fresh ideas into reality on a large scale. Simply upload your designs using the included software or via the Ethernet or USB ports, choose your substrate, and the laser will engrave and cut your design with pinpoint precision. In addition to its quality, durability, and the usual long service life, your new laser cutter is also highly practical, with a built-in air assist blowing dust and debris away from the laser head and a digital power supply providing stable high-voltage current and real-time information on your engraver's status.
Safe as can be, this laser engraver and cutter can lock its control panel via password and the included keys and automatically cuts off the laser beam if the protective cover is opened. When your work is done, just unlock the casters and wheel it anywhere you want for easy storage and quick transport.
Check out our many Accessories and Parts to go along with your laser machine! The intuitive control panel with a digital display allows complete control of the laser head, pausing and stopping projects, adjusting laser power and speed settings, file viewing, and project framing via Windows-compatible RDWorks. 1 x Laser Engraver Machine. 1 x USB Type-A to Type-A Cable. 1 x Ethernet to Ethernet Cable. 1 x Stainless Steel Clamp. Engraving Depth: 0.25 in. Workbed Height Range: 9 in.
Front/Back Pass Size: 25×1.46 in. Engraving Speed: 23.6 ips (600 mm/s).
Cutting Speed: 15.7 ips (400 mm/s). Included Software: RDWorks 8, CorelLaser. Graphic Operating Modes: Optimized Raster, Vector, and Combined.
Transfer Interface: Flash Drive, USB Cord, Ethernet Cord. Machine Dimensions: 40.2×25.6×24.8 in.
Laser Wavelength: 10.6 µm. Laser Tube Diameter: 2 in. Laser Tube Length: 34.6 in. If you must modify your. Special circumstances will be stated clearly in the listing. Please check everything carefully after you receive the parcel, as any damages except DOA (Dead-On-Arrival) are not covered if it's the fault of the consumer. Our 30-day Satisfaction Guarantee assures our customers that they will receive all orders promptly and exactly as described. Parts must be resaleable and in the original packaging.
We cannot take back used products. We cannot take back installed or tired products. We do reserve the right to refuse and return any parts we find have been installed, are used or do not meet the above criteria. Return request need to be within 30 days of receipt.
When you're serious about workplace safety, you know that air filters need to be replaced on their regular cycle to avoid clogging that can produce substandard air quality and malfunctioning equipment. This alloy framed prefilter is the exact primary replacement filter for OMTech's XL-300 series of fume extractors. It stacks on the XL-300's H13 HEPA and activated carbon filters to serve as the first line of defense against your work's harmful fumes. The sturdy aluminum alloy housing not only ensures superior stability and corrosion resistance, but also prevents air from sneaking around inside your machine.
This air filter's integrated handle permits quick and easy replacement, after which it will extend your fume purifier's dependable service another 3 months or so. Keep your XL-300 chugging along with this powerful replacement prefilter and keep your worksite as safe and clean as ever! Color: White Model: XL-300 Fabric Weight: 400 gsm Pore Size: 50 µm Efficiency: 99% Replacement Cycle: 1-3 mo. Filtration Thickness: 0.35 in. Pressure: 10.7 psi (74 kPa) Dimensions: 14.9 x 11 x 4 in.
(37.8x27.8x10 cm) Net Weight: 4.3 lb. XL-300 REPLACEMENT FILTER : This box prefilter is the exact replacement primary filter for OMTech's industrial-strength series XL-300 fume extractors; for optimal filtration, choose only original OMTech filters for your machine!
HIGH EFFICIENCY : Our 15x11x4 inch air purifier box filter rids the air of 99% of unwanted substances that are 50 microns in size or larger such as dust, debris, and other airborne particles, providing coarse but effective filtration as you work with fume-heavy equipment like laser engravers, CNC machines, and welding equipment. PROFESSIONAL QUALITY : Our durable prefilter employs an aluminum-alloy frame, tightly sealed to avoid air sneaking around the edges of your filter and strongly built to withstand even punishing use, while the nylon fabric provides both high tensile strength and dimensional stability for the longest possible service life. EXCEPTIONAL LONGEVITY : This PM50 filter extends your XL-300's dependable service for up to 3 months; as always, maintain your workplace's safety and air quality by replacing your filters on a regular cycle to avoid clogs and costly malfunctions.
EASY INSTALLATION : This replacement filter comes as a single unit, easily fitting onto your dust extractor's HEPA and activated charcoal filters thanks to the attached nylon handle. 1 x XL-300 Box Prefilter.
Professional Quality This nylon prefilter box serves as the first line of defense against your work's harmful fumes, trapping 99% of particles down to PM50 size to keep your breathing easy. Sturdy Frame Our 4-pane prefilter employs an aluminum-alloy frame, tightly sealed to avoid air sneaking around the edges of your filter and strongly built to withstand even punishing use. XL-300 Prefilter This primary filter's dependable service lasts up to 3 months, after which it's better replaced to ensure your fume extractor is at its best. Layer 2: H11 HEPA Filter. Layer 3: Activated Carbon Filter.
14.9 x 11 x 4 in. 14.9 x 11 x 2 in. We have three warehouses located in Anaheim, CA, Memphis, TN, and Dayton, NJ. Your kind consideration is highly appreciated.
We will surely take care of u. Please do check everything carefully after you received the parcel, any damage except DOA (Dead-On-Arrival) would not be covered if it's your fault. OMTech is a collaboration of 30-yr industry vets and promising new techs in Anaheim, California.
Our affordable but quality lasers and US-based support quickly grew us into the largest online brand for precision engraving. Alongside our skilled & helpful staff, OMTech users have built up a supportive online family in our forums and social media, sharing inspiration and sharpening their DIY skills together. We love keeping the OMTech family on the cutting edge of laser crafting because we know our growth is inseparable from your success. All emails will be responded to within 12-24 hours.
One 45-minute Virtual Tech Support appointment with OMTech Specialists in Anaheim, California. This item is in the category "Business & Industrial\CNC, Metalworking & Manufacturing\Welding & Soldering Equipment\Soldering/Desoldering Equipment & Accessories\Soldering Fume Extractors". The seller is "seriouswholesaler" and is located in this country: US. This item can be shipped to United States.
Brand: OMTech
MPN: OMT-XL300
Model: XL-300
Material: Aluminum Alloy, Nylon
Color: White
Fabric Weight: 400 gsm
Pore Size: 50 µm
Efficiency: 99%
Replacement Cycle: 1–3 Months
Filtration Thickness: 0.35 in.

Pressure: 10.7 psi (74 kPa)

Dimensions: 14.9 × 11 × 4 in. (37.8×27.8×10 cm)
Net Weight: 4.3 lb. (1.95 kg)
UPC: 797434195876