Secondhand 2Head CO2 Laser Engraver 35x50 Laser Cutter 2 130W Tubes Ruida Panel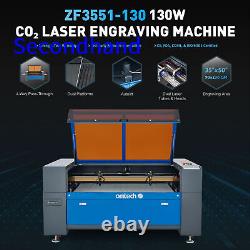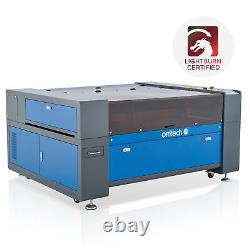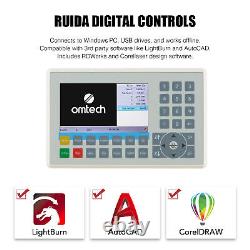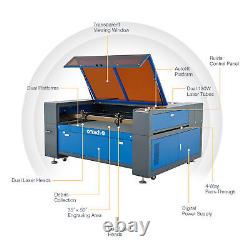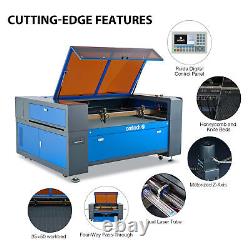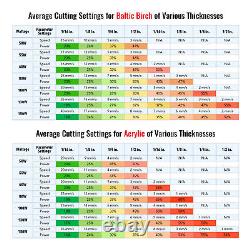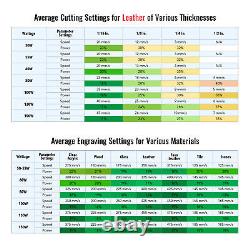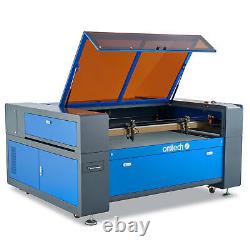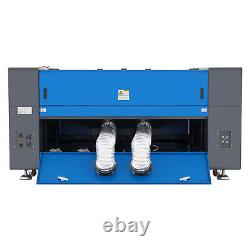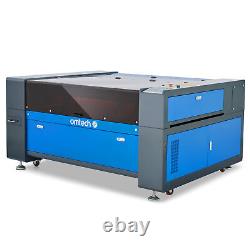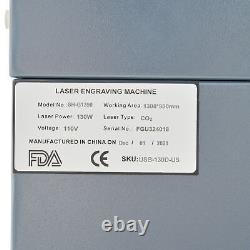 Bring your ideas to life with OMTech's laser engraver ZF series! Laser engraver continues to uphold our previous high standards with its software suite (RDWorks 8 & CorelLaser), Ruida control panel, LCD display, large 35x50 inch working area, and pass-through doors that allow even larger pieces to be worked on. To improve your efficiency and throughput, this laser cutting and engraving machine further employs TWO industrial-grade laser tubes and heads so that you can mark, engrave, and cut your designs on plastic, rubber, leather, wood, and more TWICE as quickly. Simultaneously engraving your designs, they will double your output with no loss of quality, durability, or our product's usual long service life. Compatible with most third-party graphic software, this laser cutter allows you to turn your fresh ideas into reality at double your current pace.
Simply upload your designs using the included software or via the Ethernet or USB ports, choose your substrate, and the laser will engrave and cut your design with pinpoint precision. With OMTech's precision engineering, quality materials & assembly, and good name, you can do no better for all your marking, engraving, and cutting projects at home or in your workshop. The RUIDA Motherboard and intuitive RD Control System is easy to use and offers advanced capabilities. Compatible with third party software like LightBurn and AutoCAD.
(1405×50 mm) front & back and 38?? (970×18 mm) on either side-allows you to work pieces much larger than the bed size by sliding them through as you go. Either workbed can be automatically raised and lowered at the push of a button for more efficient processing. Equipped with two 130W laser tubes and two laser heads to engrave two sections at once, effectively doubling your production speed. It's perfect for professional applications where work efficiency is a top priority.
The Air Assist ventilation function directs hazardous debris away from the engraving surface and into the waste collection bin, which takes only seconds to empty manually. (900×1300 mm) engraving table includes both honeycomb and aluminum knife beds to handle a wide variety of nonmetallic substrates, including wood, leather, fabric, stone, paper, and much more! One USB port reads flash drives while the other connects directly to your PC via dedicated cable. The Ethernet port allows you to work remotely online. Equipped with X and Y stepper motors for efficient power transmission between the guide rails with high precision and long service life.
A red dot pointer mounted on the laser head quickly indicates engraving points, marks the machine's path, and identifies positioning sizes, allowing an effortless project setup process. The laser nozzle can extend downwards up to 1.75 or be fully retracted, allowing more control over different focal distance setups. Two pre-installed air compressor guides a pressurized air stream through the laser head nozzle to displace debris, heat, and combustible gases from the engraving surface and laser beam path, keeping your workbed cleaner and engravings more precise. A pre-installed vent fan expels smoke and fumes to create a safer workspace and extend the service life of your machine.
Pre-installed hoses along with the included water pump allow for a fast and easy setup. Only use with distilled water, ensuring it stays between 60-70°F (16-21°C).
A pressure flow sensor monitors water flow throughout the laser engraving process and prevents the laser from firing if water stops circulating through the laser tube. Dual Digital Laser Power Supplies.
Two crystal-clear LCD displays on the surface of the machine monitor the electric current, easily adjusted by nearby knobs, visualizing the working current and power. The transparent acrylic window's sepia filter allows you to observe your engraver in action, as the tint blocks the laser beam and protects your eyes. The laser automatically stops engraving, cutting, or marking when the workbed's cover is opened for your safety. Close the cover and press Start to resume your work.
Indicator Lights & Emergency Stop. Three indicator lights keep you easily aware of your machine's operation while the emergency stop immediately cuts the laser and stops all moving parts in the event of accident. Engraving Depth: 0.4 in. Workbed Height Range: 5.9 in. Front/Back Pass Size: 55.31×1.97 in. Side/Side Pass Size: 38.19×0.71 in. Engraving Speed: 23.6 ips (600 mm/s). Cutting Speed: 15.7 ips (400 mm/s). Included Software: RDWorks 8, CorelLaser. Graphic Operating Modes: Optimized Raster, Vector, and Combined. Transfer Interface: Flash Drive, USB Cord, Ethernet Cord.
Machine Dimensions: 76.4×60.6×37.4 in. Laser Tube Model: EFR F6. Laser Tube Diameter: 3.1 in.
Laser Tube Length: 65 in. Focal Lens Diameter: 20 mm. 1 x Laser Engraver Machine. 1 x Ethernet to Ethernet Cable. 1 x Venting Exhaust Duct 4 ft.
1 x USB Type-A to Type-A Cable. 1 x USB Drive with Software. 1 x Stainless Steel Clamp. Laser Cutting: Acrylic Wood Leather Plastics Fabrics MDF Cardboard Paper Corian Foam Fiberglass Rubber.
Marking/Engraving: Acrylic Wood Leather Plastics Fabrics Glass Rubber Cork Brick Granite Marble Tile River Rock Bone Melamine Phenolic Aluminum Stainless Steel Titanium. Cannot cut hardwoods like mahogany. CO2 lasers only mark bare metals when anodized or treated.
Some PVC-based acrylics can create toxic fumes when lasered.