OMTech Polar 50W Desktop CO2 Laser Engraver Cutter Machine with Rotary Axis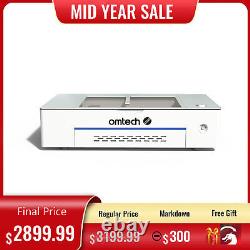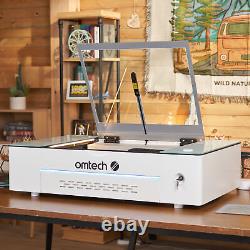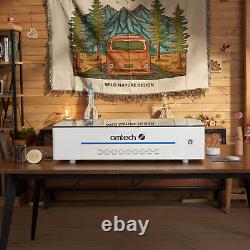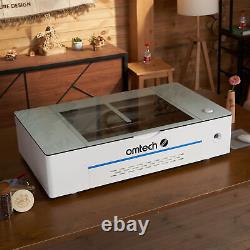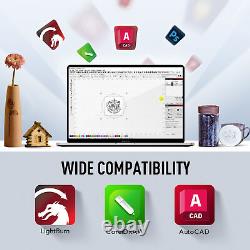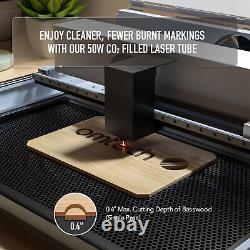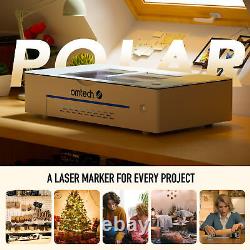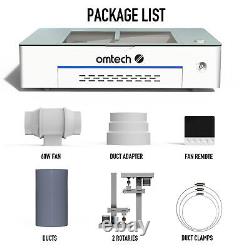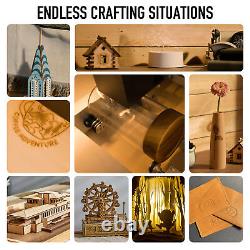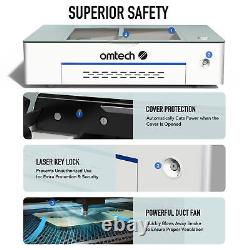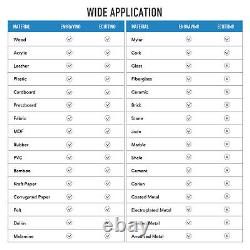 OMTech 100W 24x40 in CO2 Laser Engraver Cutter Cutting Machine Ruida. Bring your ideas to life with OMTech's laser engraver MF series! This laser cutting and engraving machine includes dual work platforms: a honeycomb bed for smaller objects and a firmer aluminum knife blade bed for larger, harder substrates like acrylic blocks. Custom designed for our machines.
Compatible with most third-party graphic software, this laser cutter allows you to turn your fresh ideas into reality on a large scale. Simply upload your designs using the included software or via the Ethernet or USB ports, choose your substrate, and the laser will engrave and cut your design with pinpoint precision. In addition to its quality, durability, and the usual long service life, your new laser cutter is also highly practical, with a built-in air assist blowing dust and debris away from the laser head and a digital power supply providing stable high-voltage current and real-time information on your engraver's status.
Safe as can be, this laser engraver and cutter can lock its control panel via password and the included keys and automatically cuts off the laser beam if the protective cover is opened. When your work is done, just unlock the casters and wheel it anywhere you want for easy storage and quick transport. Check out our many Accessories and Parts to go along with your laser machine! The intuitive control panel with a digital display allows complete control of the laser head, pausing and stopping projects, adjusting laser power and speed settings, file viewing, and project framing via Windows-compatible RDWorks.
1 x Laser Engraver Machine. 1 x USB Type-A to Type-A Cable.
1 x Ethernet to Ethernet Cable. 1 x Stainless Steel Clamp.
Engraving Depth: 0.25 in. Workbed Height Range: 9 in. Front/Back Pass Size: 25×1.46 in. Engraving Speed: 23.6 ips (600 mm/s). Cutting Speed: 15.7 ips (400 mm/s).
Included Software: RDWorks 8, CorelLaser. Graphic Operating Modes: Optimized Raster, Vector, and Combined.
Transfer Interface: Flash Drive, USB Cord, Ethernet Cord. Machine Dimensions: 40.2×25.6×24.8 in.
Laser Wavelength: 10.6 µm. Laser Tube Diameter: 2 in.
Laser Tube Length: 34.6 in. If you must modify your. Special circumstances will be stated clearly in the listing. Please check everything carefully after you receive the parcel, as any damages except DOA (Dead-On-Arrival) are not covered if it's the fault of the consumer.
Our 30-day Satisfaction Guarantee assures our customers that they will receive all orders promptly and exactly as described. Parts must be resaleable and in the original packaging. We cannot take back used products.
We cannot take back installed or tired products. We do reserve the right to refuse and return any parts we find have been installed, are used or do not meet the above criteria.
Return request need to be within 30 days of receipt. OMTECH POLAR: THE BEST CO2 LASER CUTTER FOR HOME & SMALL BUSINESS. The new Polar laser machine by OMTech is everything the small business or home-based creator could ask for, all loaded into an innovative and sleek package.
Equipped with a powerful 50w CO2 laser tube and custom rotary attachment, this LightBurn-ready unit is the ultimate user-friendly experience. Its compact design and portable size make the Polar ideal for the home office or on the move. Don't let budget or a lack of functionality limit you. Compare the Polar to any desktop CO2 machine offered by our competitors, we know our price and feature set can't be beat. Create, explore, and do so much more with the OMTech Polar. 38.2"22.3"9.2. Max Working Height With Tray. Max Working Height Without Tray.
SVG, DXF, JPG, JPEG, PNG, BMP, TIF, etc. 18.8 cfm Air Flow.
Equipped with a 50W laser tube with an exceptionally long lifespan of up to 11,000 hours, this laser engraver provides ample energy for engraving and marking non-metallic substrates, including wood, leather, fabric, stone, paper, and more! Our high-performance exhaust system works perfectly with the external duct fan, directing hazardous debris away from the engraving surface and into your ventilation system.
The integrated high resolution camera can visualize the entire workbed to let you position your designs precisely, increasing efficiency and speeding production. (300×510 mm) engraving table includes a honeycomb bed with built-in scale to handle projects large and small with maximal safety and efficiency. This powerful laser engraver comes with an integrated water chiller to keep the laser tube nice and cool no matter your project.
The two provided rotary axes are ready to work with your laser engraver to perform 360° engravings on cylindrical and round objects up to 2.9? In diameter, such as cups, bottles, flasks, tubes, pipes, bowls, bracelets, and more! This engraver employs an HIWIN 3-axis linear guide rail to offer fast and stable marking of flat surfaces at speeds as fast as 19.7 inches per second with pinpoint accuracy. Easy as can be, this engraver lets you connect to your computer using the Ethernet cable or wireless network, keeping things simple and convenient. The intuitive controller is compatible with most third party software to help you get started quickly and easily, allowing you to create intricate patterns and stunning images that are easy to upload to your laser engraver.