OMTech 130W Dual Tubes 35x51 CO2 Laser Engraver Marker with CW5202 Water Chiller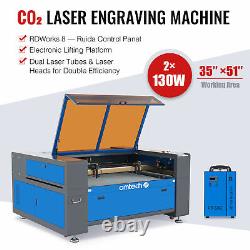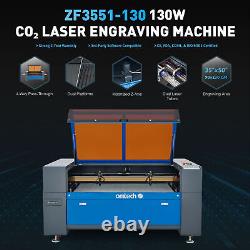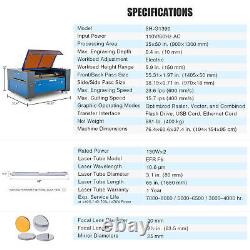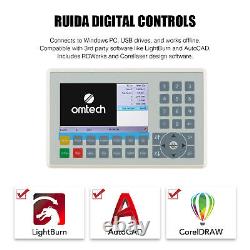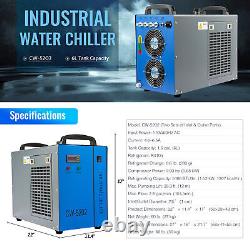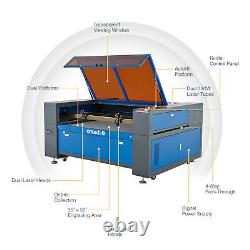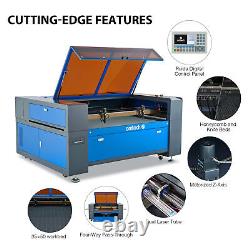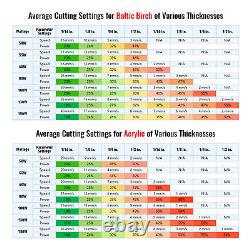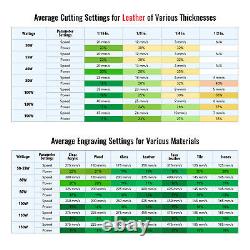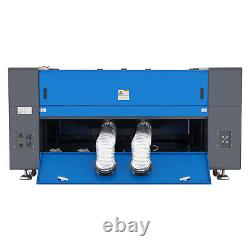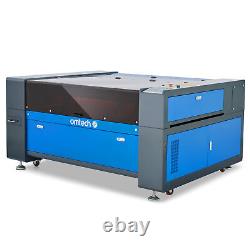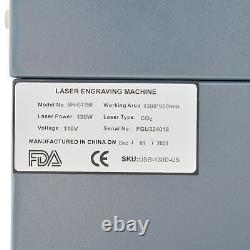 Convenient Size: 34.5" x 50.5" (880 x 1285 mm) engraving/cutting area 60.6" x 37" x 37.4 (154 x 94 x 95 cm) overall machine dimensions Net Weight 661 lbs (300kg). Use the oversized workbed to tackle the largest projects with ease. An adjustable stabilizing base allows easy height adjustment.
Compatibility: The Ruida control board works seamlessly with RDWorks for Windows PC (included) and LightBurn (not included) RDWorks (included) and LightBurn (not included) are compatible with Windows 7, 8, 10 (64/32 bit), XP, 2000, and Vista. The Ruida controller is compatible with macOS (Version 10.11 and higher) ONLY if you use LightBurn software (not included) Photo-ready to convert images from HPLG, BMP, GIF, JPG, JPEG, DXF, DST, AI formats, and more into. RD files for laser processing. 4-Pin Port connection for rotary axis devices. Honeycomb bed and knife bed removal required for 4-Wheel Rotary or Jaw Chuck Rotary Device use.
Power: The integrated power supply features increased response speed, performance, and cutting power - it's beaming with possibilities! A secondary LCD display panel monitors the electric current and auto-judges fault, reducing potential damage to the laser tube and power supply. Cut up to 10 mm?? Thick acrylic/plexiglass Uses standard 110V AC power connection.
Two 130W CO2 laser tubes with estimated lifetimes of up to 8,000 operation hours depending on power setting usage and water cooling performance PLEASE NOTE: Frequent use of high laser power settings will shorten the laser tube lifetime as follows: Low Power 10-40% = 7,000-8,000 Hours Moderate Power 40-70% = 5,000-6,500 Hours High Power 70-100% = 3,000-4,000 Hours. Cutting Edge Features: DOUBLE YOUR EFFICIENCY: Equipped with two 130W laser tubes and two laser heads to engrave two sections at once, effectively doubling your production speed. It's perfect for professional applications where work efficiency is a top priority. RUIDA DIGITAL CONTROLLER: The intuitive control panel with a digital display allows complete control of the laser head, pausing and stopping projects, adjusting laser power and speed settings, file viewing, and project framing via Windows-compatible RDWorks v8. USB & ETHERNET PORTS: 2 USB ports allow flash drive connectivity and a USB-to-USB PC connection.
Plus, the ethernet connection is compatible with PCs. LINEAR RAIL GUIDING SYSTEM: Equipped with X, Y, and Z stepper motors for efficient power transmission between the guide rails with high precision and long service life. MOTORIZED Z-AXIS: An electric lift powers the workbed's ascent/descent function, allowing effortless platform height adjustment to accommodate bulky objects and help you focus the laser head. VIEWING WINDOW: A transparent acrylic glass viewing window allows observation throughout the laser engraving process.
Plus, it's equipped with a sepia tint to protect your eyes from indirect laser beam exposure. RED DOT GUIDANCE: A red dot pointer mounted on the laser head quickly indicates engraving points, marks the machine's path, and identifies positioning sizes, allowing an effortless project setup process. ADJUSTABLE LASER NOZZLE: The laser nozzle can extend downwards up to 1.75 or be fully retracted, allowing more control over different focal distance setups. AIR ASSIST: A pre-installed air compressor guides a pressurized air stream through the laser head nozzle to displace debris, heat, and combustible gases from the engraving surface and laser beam path, keeping your workbed cleaner and engravings more precise.
BUILT-IN VENTILATION: A pre-installed vent fan expels smoke and fumes to create a safer workspace and extend the service life of your machine. WATER COOLING SYSTEM: Pre-installed hoses along with the included water pump allow for a fast and easy setup. Only use with distilled water, ensuring it stays between 60-70°F (16-21°C). WATER FLOW SENSOR: A pressure flow sensor monitors water flow throughout the laser engraving process and prevents the laser from firing if water stops circulating through the laser tube. AUTOMATIC SHUTDOWN: The auto-shutdown safety feature stops the machine when opening the transparent window cover.
Once closed, press the "Enter" button to continue operation. EFFORTLESS CLEANUP: A debris collection system below the workbed funnels engraving debris into a removable collection tray, helping maintain the machine's cleanliness and easing your cleanup process. Package Includes: 1 x Laser Engraver Machine 1 x CW-5202 Water Chiller 1 x Storage Tank 1 x Ethernet to Ethernet Cable 1 x Grounding Wire 2 x Venting Exhaust Duct 4 ft. Length 4 x Water Hoses 1 x USB Drive with Software 1 x USB Type-A to Type-A Cable 1 x Stainless Steel Clamp 10 x Hex Wrenches 1 x Double-sided Tape 1 x Power Cord 1 x Accessory Bag 2 x Keys 1 x Silicone Sealant 1 x Instruction Manual. Certifications: FDA Compliant CE Certification ISO9001 Quality Certification One 45-minute Virtual Tech Support appointment with OMTech Specialists in Anaheim, California.
Compatible Materials: Laser Cutting: Acrylic Wood Leather Plastics Fabrics MDF Cardboard Paper Corian Foam Fiberglass Rubber Marking/Engraving: Acrylic Wood Leather Plastics Fabrics Glass Rubber Cork Brick Granite Marble Tile River Rock Bone Melamine Phenolic Aluminum Stainless Steel Titanium Cannot cut hardwoods like mahogany. CO2 lasers only mark bare metals when anodized or treated. Some PVC-based acrylics can create toxic fumes when lasered. Front & back and 38?? On either side-allows you to feed material into the workbed from any direction, letting you cut materials larger than the bed size by sliding them across the engraving table.
The Beehive-Pattern Cutting Platform offers stability, noise reduction, and heat resistance for smaller items, while the Aluminum Knife Cutting Platform offers adjustable height and intense rigidity for larger items like acrylic material. This powerful laser engraver comes with an industrial-strength CW-5202 water chiller to keep the laser tube nice and cool no matter your project. Either workbed can be automatically raised and lowered at the push of a button for more efficient processing.
One USB port reads flash drives while the other connects directly to your PC via dedicated cable. The Ethernet port allows you to work remotely online.
Equiped with two 130W laser tubes, this laser engraver works with double efficiency. Each can also operate as high as 145W for short periods when you need a bit more oomph. (900×1300 mm) workbed gives you plenty of space to work on wood, rubber, plastic, paper, fabric, leather, ceramics, tile, fiberglass, marble, stone, and more-even before you open the integrated pass-through doors that permit you to work on even larger pieces! Internal & External Vent Pipes.
Alongside the usual external vent, a retractable pipe inside the machine-connecting to the waste hopper below the engraving table-improves ventilation efficiency and extends the service life of your reflective lenses. Indicator Lights & Emergency Stop. Three indicator lights keep you easily aware of your machine's operation while the emergency stop immediately cuts the laser and stops all moving parts to minimize accidents.
Dual Digital Laser Power Supplies. Two crystal-clear LCD displays on the surface of the machine monitor the electric current, easily adjusted by nearby knobs, visualizing the working current and power. The transparent acrylic window's sepia filter allows you to observe your engraver in action, as the tint blocks the laser beam and protects your eyes. The laser automatically stops engraving, cutting, or marking when the workbed's cover is opened for your safety. Close the cover and press Start to resume your work.
(10 mm)depends on materials. Optimized Raster, Vector, and Combined. Flash Drive, USB Cord, Ethernet Cord. 76.4×60.6×37.4 in. This item is in the category "Business & Industrial\Printing & Graphic Arts\Screen & Specialty Printing\Engraving".
The seller is "seriouswholesaler" and is located in this country: US. This item can be shipped to United States.
Brand: OMTech
MPN: ZF3551-130
Engraving Method: Laser
Type: Engraving Machine
Material: Acrylic, Felt, Foam, Glass,Neoprene, Paper, Plastic, Rubber,Wood
Engraving Application: Gift Personalization, Housegoods, Office Signage, Plaque, Signs
Power: 130 W
Machine Operation: Computerized
Name Tag Style: Badge
Application Shape: Square
Model: SH-G1390
Input Power: 110V/60Hz AC
Processing Area: 35×50 in. Engraving Depth: 0.4 in. (10 mm)
Workbed Adjustment: Electric
Workbed Height Range: 5.9 in.

(150 mm)

Front/Back Pass Size: 55.31×1.97 in. (1405×50 mm)
Side/Side Pass Size: 38.19×0.71 in. Engraving Speed: 23.6 ips (600 mm/s)
Max. Cutting Speed: 15.7 ips (400 mm/s)
Included Software: RDWorks 8, CorelLaser
Graphic Operating Modes: Optimized Raster, Vector, and Combined
Transfer Interface: Flash Drive, USB Cord, Ethernet Cord
Net Weight: 661 lb. (300 kg)
Machine Dimensions: 76.4×60.6×37.4 in. (194×154×95 cm)
Rated Power: 130W
Laser Tube Model: EFR F4
Laser Wavelength: 10.6 μm
Laser Tube Diameter: 3.1 in. (80 mm)
Laser Tube Length: 65 in. (1650 mm)
Laser Tube Warranty: 1 Year
Exp. Service Life at <40% / 40–70% / >70% Power: 7000–8000 / 5000–6500 / 3000–4000 hr.
Focal Lens Diameter: 20 mm
Focal Length: 2 in. (50.8 mm)
Mirror Diameters: 25 mm
UPC: 719868159828