Autofocus Sensor Kit with Z-Axis Motor for 50W and up CO2 Laser Engraver Cutter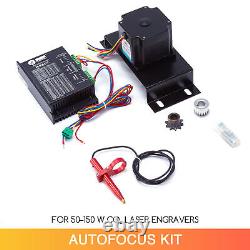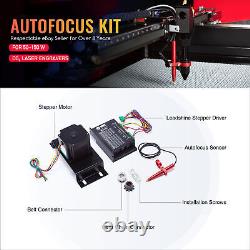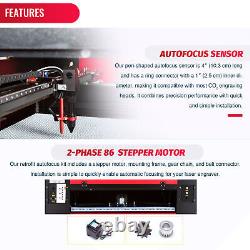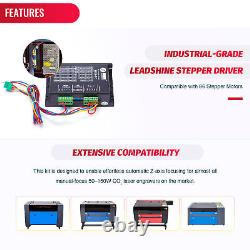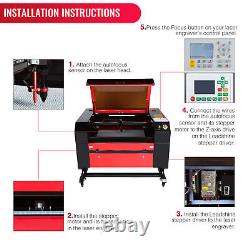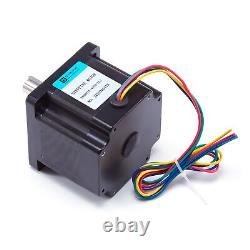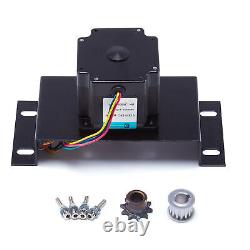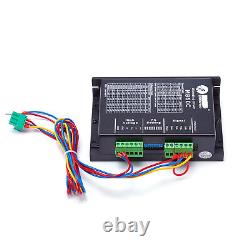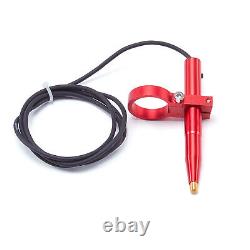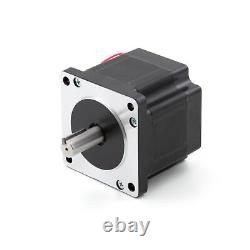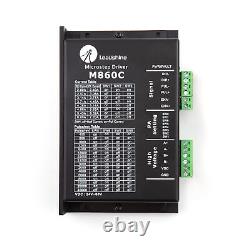 Upgrade your laser engraving experience with our autofocus sensor kit. Our package kit comes with all the items you'll need to convert your manual focusing laser cutting work station into an automatic one. The Leadshine M860C is perfectly compatible with the NEMA 34 stepper motor and will control the rotation angle of speed of the NEMA 34 motor to bring your laser engraving machine into perfect focus along the Z-axis. The automatic adjustments will save you labor and keep you safe, so you can continue engraving, seal-cutting, etching, and more!
Leadshine's M860C stepper motor driver is compatible with most CO2 laser engraving machines. Easy to install, this industrial-grade driver provides stable long-term operation. The NEMA34 stepper motor works efficiently to produce little noise, vibration, or heat. It also offers self-testing and protection against power surges and other electrical instability.
Our pen-shaped autofocus sensor is 4? Long and has a 1? Diameter ring connector for compatibility with most CO2 engraving heads. It combines precision performance with quick and simple installation. This kit is designed to enable effortless automatic Z-axis focusing for almost all manual-focus 50-100W CO2 laser engravers on the market.
Autofocus Sensor Length: 4 in. Autofocus Sensor Ring Connector Dia. Compatible with 12" x 20" to 24" x 36" work area models. 1 x Leadshine M860C Stepper Driver. 1 x NEMA 34 Stepper Motor.
AUTOMATIC FOCUS & LIFT: Our autofocus sensor kit transforms your laser engraving workbench from manual to automatic. AUTOFOCUS SENSOR: Our pen-shaped sensor is 4 inches long and has a 1-inch diameter ring connector for compatibility with most CO2 engraving heads.
NEMA 34 STEPPER MOTOR: Equip your laser cutting machine with this high-quality and high-power NEMA 34 stepper motor to provide quiet but stable and reliable movement to your workbed. LEADSHINE STEPPER DRIVER: This autofocus kit comes with an easy to install industrial-grade Leadshine M860C stepper motor controller compatible with most CO2 laser engravers to manage the rotation angle and speed of the stepper motor. We have three warehouses located in Anaheim, CA, Memphis, TN, and Dayton, NJ. Your kind consideration is highly appreciated.
We will surely take care of u. Special circumstances will be listed clearly in the listing. Please do check everything carefully after you received the parcel, any damage except DOA (Dead-On-Arrival) would not be covered if it's your fault. Our 30-day Satisfaction Guarantee assures our customers that they will receive all orders promptly and exactly as described. Parts must be resaleable and in the original packaging.
We cannot take back used products. We cannot take back installed or tired products. We do reserve the right to refuse and return any parts we find have been installed, are used or do not meet the above criteria.
Return request need to be within 30 days of receipt. OMTech is a collaboration of 30-yr industry vets and promising new techs in Anaheim, California. Our affordable but quality lasers and US-based support quickly grew us into the largest online brand for precision engraving. Alongside our skilled & helpful staff, OMTech users have built up a supportive online family in our forums and social media, sharing inspiration and sharpening their DIY skills together.
We love keeping the OMTech family on the cutting edge of laser crafting because we know our growth is inseparable from your success.